AC pressure sensor is short for air conditioning pressure sensor, also known as AC switch, turns off the air conditioning system whenever the refrigerant pressure reaches a lower extreme. This not only signals the need for a recharge of refrigerant, but also saves the compressor from running without the proper lubrication. If the AC pressure sensor is bypassed, then the compressor can potentially freeze up from a lack of fluid and lubrication.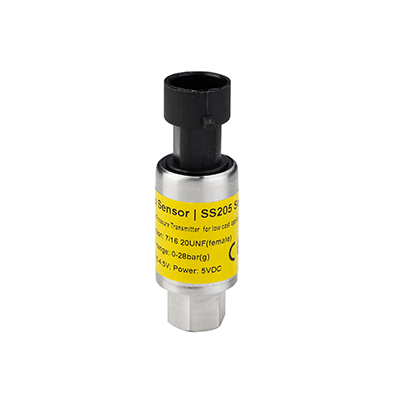 Model:
SS205 series
Application: AC pressure sensor
SS205 Series AC pressure sensor is designed with piezoresistive technology, it is a high quality sensor with stable signal, available with the range -1 to 24 bar, -1 to 16 bar, 0 to 16 bar, 0 to 28 bar, 0 to 30 bar, 0 to 350 psi, 0 to 700 psi and can be customized, 7/16 - 20 UNF female pressure connection with stainless steel welding structure gives the best medium compatible, typical application for the aftermarket of HVAC, refrigerant, on a car or fuel pump.