Use the pressure sensor solution to complete the gas pressure measurement. The pressure sensor is a conversion device used for gas pressure measurement is mainly used to measure the absolute pressure of the gas, can be used for blood pressure, wind pressure, pipeline gas and other aspects of pressure measurement. The performance is stable and reliable, is mainly suitable for physical experiments related to gas pressure, such as the law of gas. It can also measure gas pressure in biological and chemical experiments. SS302+ series piezoresistive pressure transmitters for 10 kpa, 0…100 mbar, 0…1.5 psi, 0…40 inH2O pressure range, and convert the measured pressure to a corresponding output signal from 4 to 20 milliamps.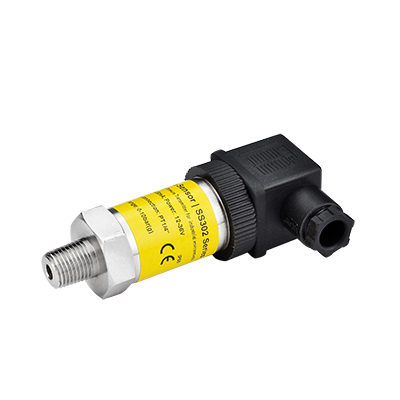 ● CE conformity
● Vented gauge
● Pressure ranges 0.1bar
● Compact, rugged construction
● Stainless steel 316L diaphragm
● Piezoresistive pressure sensor, oil filled
● Isolated construction, able to test various media
● A wide range of pressure and electrical connections
● Output signals: 4-20mA and 0.5-10V, 0.5-5V voltage output
SS302+ series piezoresistive pressure transmitters 10 kpa works following the piezoresistive principle, standard medium working temperature from -20 to 100°C. A modular concept uses the selection of off-the-shelf capsules, allowing a customized production. Numerous options and variants are available, fully adapted to the customer requirements: power supply, signal outputs, mechanical and electrical interface, ports, materials in media contact, oil filling, special feature, etc.
SS302+ series adopt a high performance piezoresistive pressure transducer as the sensing part, the inner structure is O-ring sealed, -10 to 70°C wide temperature compensation, well suitable for precision applications in industrial environments for air or gas.

| | |
| --- | --- |
| Accuracy @ 25°C | ±1.0% F.S. |
| Response time | < 4 ms |
| Overload pressure | 2.0 F.S. |
| Pressure range | 10 kpa / 0.1 bar |
| Pressure type | vented gauge |
| Polarity protected | Yes |
| Short-circuit protected | Yes |
More details for this 10kpa pressure sensor, please contact us ...