We need PS100E02 Ceramic Pressure Sensor 0-10V and PS100E03 Ceramic Pressure Sensor 4-20mA, different range, totally yearly about 30.000 pcs. We buy now from XXXXXXXX. We are manufacturer of Pressure Transmitter.
Please send us also from Body Drawing and seal drawing, better a stainless Steel Body.We will make our Body after this sample.if you have you can send the assembling instructions.Please if possible, send us 4-20mA , 0,5-4,5 V, and 0-10 V each type 1 pcs Sample totaly 3 pcs. (better all 10 bar), supply voltage 10-30 V or 12-30V.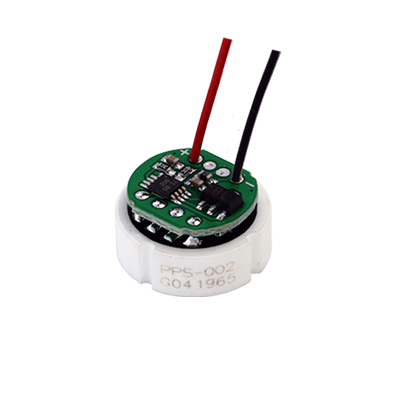 4-20 mA Ceramic Pressure Sensor


Features
1,High accuracy and high stability. 2,Wide choice of measuring ranges. 3,Solid ceramic sensitive diaphragm. 4,Smart volume, easy for encapsulation. 5,Excellent shock and vibration resistance. 6,Excellent corrosion and abrasion resistance. 7,Low cost, extreme extensive application range. 8,Thermally compensated, wide-range operating temperature.
Description
PS100E02/03 series are made with ceramic cell(Al2O3 96%) and work following the piezoresistive principle. The signal conditioning electronics are added on one side of ceramic diaphragm where the wheatstone bridge is screen printed, offer 0-10V, 0-5V, 0.5-10V and 4-20mA signal(Customized is available). PS100E02/03 series is fully temperature compensated and guarantees a residual temperature effect inside the compensation temperature range within 0.02%FS/°C. This feature results in a very stable sensor under very harsh conditions. Thanks to the excellent chemical immunity of the ceramic material, the sensors are suitable for nearly all most media.
Parameters


PS100E02


PS100E03




Power Supply




12-30VDC




12-36VDC




Output Signal




0 to 10V | 0 to 5V (Non ratiometric)




4 to 20mA (current loop)




Pressure Range



0 ... 1Bar to 400Bar


Temperature Characteristic




±0.02%FS/°C (25°C to 85°C)




Operating Temperat

ure




0 to 85°C




Material




Ceramic Al2O3 96%



Typical pressure and accuracy (Unit:Bar)
Rated Range

2

5

10

20

30

50

100

200

400

Over Pressure

4

10

20

40
60
100
200
400
600
Burst Pressure

7
15
35
70
90


150




250




450




600



Accuracy

±1.5% F.S.


±1.0% F.S.



±1.5% F.S.

Accuracy including Linearity, Hysteretic, Repeatability @25°C/room temperature.