Hello sendo sensor, I need to source a ceramic pressure transducer that is a close or identical fit to a Metallux me-707-A-002-01-01 or me-780-A-002-0-0-0-0-0. That is; a 96% AL03 ceramic flat membrane absolute pressure sensor with 18mm dia disc, <=1%FS accuracy, 0-2 bar range, ratiometric output .5-4.5V, 5V power, 3 wire unit.
I believe I need a PS100E01 A01 A01, but I will let you confirm.. the sensor will be used on either side of a flow cell in our LNF instrument, the medium is Lube oil, with any small percentages of water, debris, etc. that may accompany, and the RT to 50C at most.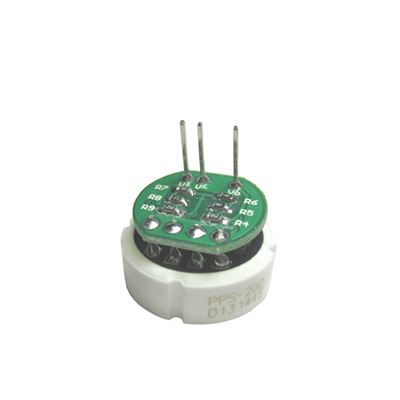 0.5-4.5V Ceramic Pressure Sensor
Features
1,High accuracy and high stability; 2,Wide choice of measuring ranges; 3,Solid ceramic sensitive diaphragm; 4,Smart volume, easy for encapsulation; 5,Excellent shock and vibration resistance; 6,Excellent corrosion and abrasion resistance; 7,Low cost, extreme extensive application range; 8,Thermally compensated, wide-range operating temperature
Descriptions
PS100E01 series low cost ceramic pressure sensors are made with ceramic cell(Al2O3 96%) and work following the piezoresistive principle, the signal conditioning electronics are added on one side of ceramic diaphragm where the wheatstone bridge is screen printed, offer 0.5-4.5V, 0.2-4.5V ratiometric signal(Customized is available), it has been developed for low cost applications (e.g. automotive applications). PS100E01 series have the reinforced outer area(monolithic structure), the sensor can be mounted in a plastic or metallic case by using O-ring, and thanks to the good chemical resistance of the ceramic, the sensors can measure pressure in nearly all aggressive media.
Parameters
| | |
| --- | --- |
| Power Supply | 5 VDC |
| Output Signal | 0.5-4.5V |
| Pressure Range | 0 to 2 Bar |
| Temperature Characteristic | ±0.02%FS/°C (25°C to 85°C) |
| Operating Temperature | -40 to 125°C |
| Material | Ceramic Al2O3 96% |
| Sensor type | Gauge |
| Technology | Piezoresistive |
| Weight | 8g |
Unit: Bar
Rated Range



2

5

10

20

30

50

100

200

400

Over Pressure

4

10

20

40

60

100

200

400

600

Burst Pressure

7

15

35

70

90

150

250

450

600

Accuracy

±1.5%FS


±1.0%FS



±1.5%FS

Accuracy including Linearity, Hysteretic, Repeatability @25°C/room temperature